CALL CONGRESS: We're Closer to #ReliefNow Than Ever Before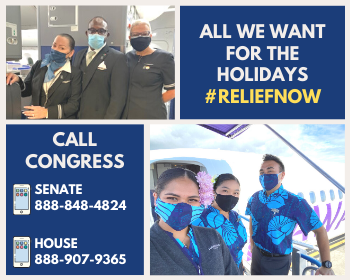 We've rallied, marched, called, emailed, tweeted, and more to demand our members of Congress extend the Payroll Support Program (PSP). Our activism is forcing lawmakers to publicly come out to support #ReliefNow for Flight Attendants and essential aviation workers and urge their colleagues to take action. 
Throughout the next 10 days, we have to be louder than we've ever been before. 
The $908 billion bipartisan proposal on emergency relief has significant support across Congress, but there are a few outstanding issues unrelated to PSP. Our action and voices are critical to getting this legislation over the finish line.
Congress is gearing up to depart Washington, D.C. for the holidays and before they leave, they must pass a government funding bill by Friday, December 11th, to avert a government shutdown. Congress is expected to extend that deadline to December 18th. That is unfortunate because every day counts for those out of work and all the disruption and suffering caused for people without relief - and even those on the job under these conditions. We need to continue to demand #ReliefNow. Every day counts! This is a bridge of emergency relief for the whole country for four month. Stimulus discussions for recovery would be renewed in the New Year. More relief will be needed for our country to recover.
Our members of Congress must hear from us, our family members and friends, everyday.
SENATE: 888-848-4824
HOUSE: 888-907-9365
"Hello, I am a constituent calling to tell my (Senator/Representative) that we need emergency relief and an extension of the Payroll Support Program TODAY. We are out of work and without healthcare. Do not leave Washington, D.C. without passing emergency relief for our families. Do your job. Thank you."