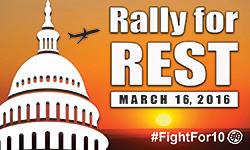 Every three to five years Congress is required to authorize funding and set policies for the Federal Aviation Administration (FAA).
AFA's top legislative priority for this FAA reauthorization is to have Congress increase the minimum rest requirements for Flight Attendants. Seven Flight Attendant fatigue studies, commissioned by Congress, concluded that the best way to combat fatigue is to get more rest.
Flight Attendant's rest should equal pilot rest in order to do our work as aviation's first responders. Join all Flight Attendants to Rally for Rest at the U.S. Capitol in Washington, D.C. on Wednesday, March 16, 2016 in support of FAA minimum 10 hours rest for all Flight Attendants.
Human Trafficking Awareness Training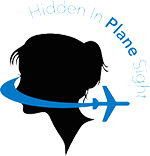 Dec 2, 2015 - It is estimated that at least 12.3 million adults and children are enslaved around the world and that 56 percent are women and girls. As Flight Attendants, we are uniquely positioned to identify human traffickers and assist their victims. Flight crews are skilled observers, and with the appropriate training, we can be 100,000 eyes in the skies to save lives.
Airline Ambassadors International will hold training at all three airports in the Bay Area next week (January 11-15).
Oakland Flyer | San Francisco Flyer | San Jose Flyer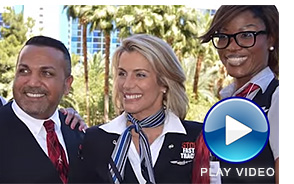 Dec 2, 2015 - Thanks to the determination of union Flight Attendants, we beat back the scourge of discrimination and those with the heart of a Flight Attendant can become one. Management, no matter how enlightened, will never fill this role for us.
There are new threats to our careers and to equality. Flight Attendants: we must unite.


Your Help Needed to Stop Toxic Fumes in the Cabin
Sept 1, 2015 - The airline industry has long known that the air you breathe on board can be contaminated with highly toxic oil fumes. More information >