One year ago, in recognition of those who lost their lives and in tribute to the families who have valiantly fought to ensure their death was not in vain, we publicly launched our campaign to Fight Fatigue with 10 hours minimum rest and a Fatigue Risk Management Plan (FRMP) for Flight Attendants. Watch the Colgan 3407 tribute video. Full story >
Flight Attendants Cement Essential 10 Hour Rest Provision in House FAA Reauthorization Bill
Feb 11 - The Association of Flight Attendants-CWA, AFL-CIO (AFA) cheered the members of the House Transportation and Infrastructure Committee for their action to amend the Aviation Innovation, Reform and Reauthorization Act of 2016 (AIRR Act) to include a 10 hour minimum rest provision based on science and sought by Flight Attendants for decades.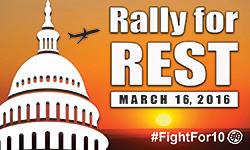 Flight Attendant's rest should equal pilot rest in order to do our work as aviation's first responders. Join all Flight Attendants to Rally for Rest at the U.S. Capitol in Washington, D.C. on Wednesday, March 16, 2016 in support of FAA minimum 10 hours rest for all Flight Attendants.



Your Help Needed to Stop Toxic Fumes in the Cabin
Sept 1, 2015 - The airline industry has long known that the air you breathe on board can be contaminated with highly toxic oil fumes. More information >